Alert
New law HF718 effective July 1, 2023
If you are not a Winnebago County resident:
A $10 Convenience Fee will be added for issuance of a DL or ID.
Fee must be paid with cash or check as a separate transaction.
Fee is waived if you pay property taxes to Winnebago County.
Driver's License is by appointment ONLY. Please call 641-585-2322 or 641-585-4430 to set up an appointment.
Hours & Locations
Renew your license 30 days before or 60 days after your birthday. If your license has been expired for over one year, full testing (computer and skills) are required.
REMINDER: If you are not a Winnebago County resident and do not pay property taxes to Winnebago County, you will be charged a $10.00 convenience fee paid separately via cash or check for issuance of a Driver's License or Identification Card, per HF718 effective July 1, 2023
General Hours & Appointments
Driver's license services are available Monday through Friday by appointment only. Some services are only available at certain times. Please see the appointment list below for specifics.
Appointments available:
Renewals | BY APPOINTMENT ONLY 8:00 a.m. – 4:00 p.m. (last appt. at 3:30 p.m.)
Computer Knowledge Test | Please call to set up a testing appointment
Skills Driving Test | by appointment only

Skills tests can be scheduled after passing the computer knowledge exam
No motorcycles or CDL skills testing in Winnebago County. You may contact a state DOT station to find a motorcycle or CDL testing location.
Please call 641-585-2322 or 641-585-4430 to book an appointment.
Services
Permit Test Requirements
Birth certificate

Certified state copy of the birth certificate (the hospital birth certificate with baby footprints will not be sufficient)

Social security card
A parent must be present at the appointment or this Parent Consent Form (Iowa DOT Form 430018) must be completed prior to the appointment
Two pieces of mail with the minor's name and address listed
School Permit Requirements
Completed and passed Driver's Education
6 months of having a permit with no accidents or citations
Completed Affidavit for Minor School License (Iowa DOT Form 430021)
Renewals
Renewals are $4 per year for basic renewals. Motorcycle endorsements are an additional $2 per year.
Renewal Requirements

8-year renewals | 18 to 72-year-olds
7-year renewals | 73-year-olds
6-year renewals | 74-year-olds
5-year renewals | 75-year-olds
4-year renewals | 76-year-olds
3-year renewals | 77-year-olds
2-year renewals | 78-year-olds and older
Payment Options
Cash
Check made out to Treasurer, State of Iowa
Debit/credit cards for an additional $1.50
Duplicate/Replacement
Duplicates cost $10.
Identification Cards
In Iowa, you can have an ID card or a driver's license; you are not allowed to have both.
Iowa non-operator's ID cards will be issued with an expiration date of eight years.
Commercial Drivers Licence (CDL)
CDLs are $8 per year. If you have the hazmat endorsement, testing is required at renewal time. Every five years, fingerprints and background checks are required as well. More information can be found on the Iowa DOT website.
If you have a CDL you must certify if you are interstate or intrastate. Intrastate includes using your CDL only within the state of Iowa while interstate is using your CDL while outside of the state of Iowa. If you certify as non-excepted interstate you will need the following:
Medical card from your doctor
Failure to comply with the required timeline will result in a downgrade of your CDL.
See the diagram below for more information on interstate vs intrastate.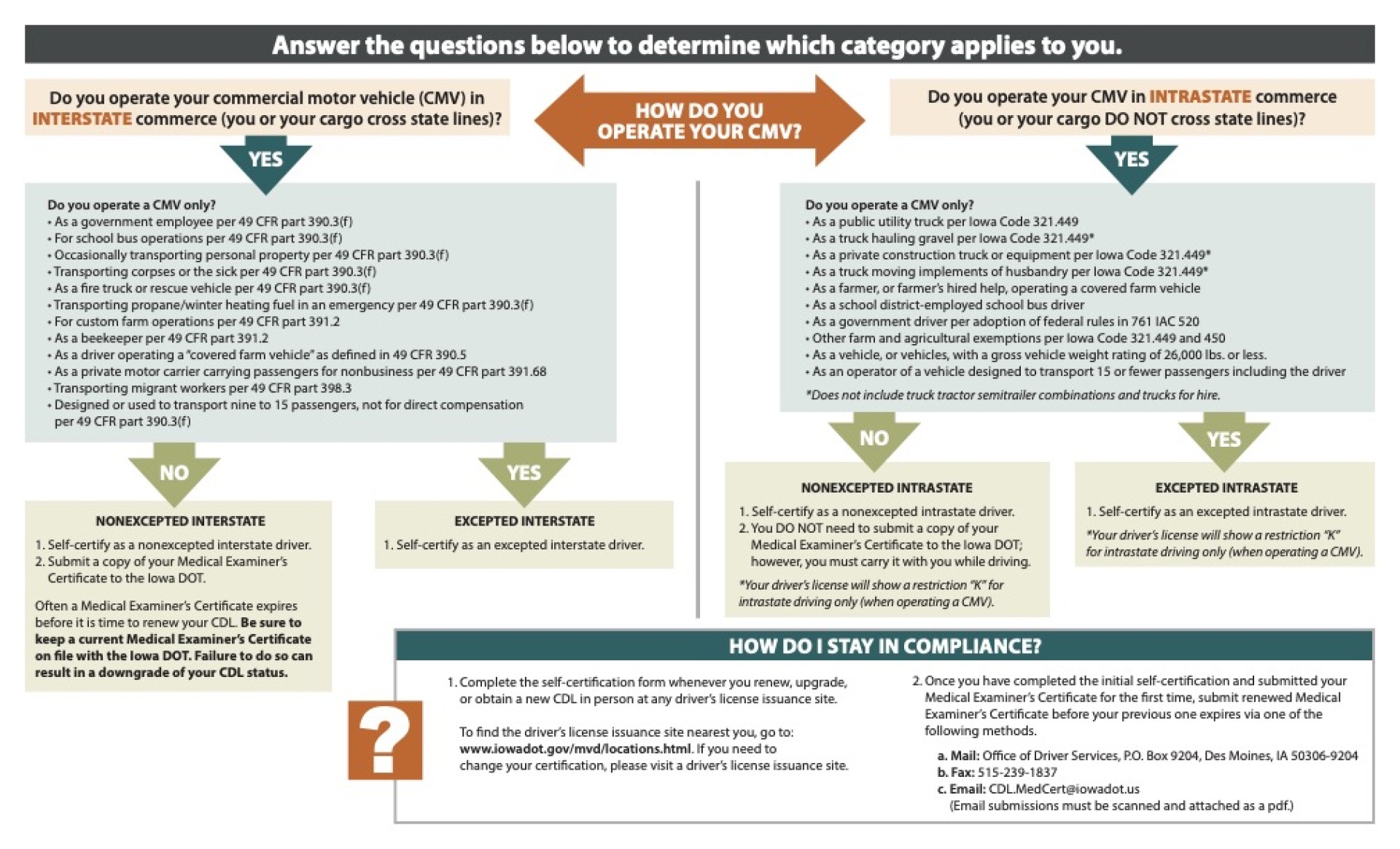 Reminder! CDL holders must bring in their birth certificate, passport, or INS document to renew if they don't have a Real ID.
REAL ID Requirements
Deadline: May 7, 2025
Typical documents needed (you will need all three):

Identity

Birth certificate or valid passport

Social security

Card or 1099/W-2 with full number listed on document

Residency
You may also need proof of legal name change, if applicable

If your legal name has changed, you will need to bring in your certified legal name change documents (i.e. certified marriage certificate, divorce decree, etc.).

To change your existing license to the Real ID license it is $10 if not at renewal time.
Iowa DOT REAL ID Info View REAL ID flyer
Address Change
In-state address changes cost $10 and can be done through a verbal address update. If from out of state, please visit the Iowa DOT website for more information.
New to Iowa?
Learn how to get an Iowa driver's license.
You will need to bring:

Proof of identity (passport, birth certificate, INS documents)
Proof of social security (social security card, anything listing your full social security number or social security number affidavit for driver's license or identification card services
Proof of residency x 2 (2 pieces of mail)
If your legal name has changed, you will need to bring in your certified legal name change documents (i.e. certified marriage certificate, divorce decree, etc.)
For more information about drivers licensing, please check out our frequently asked questions section.
For additional forms, please check out the online forms.