Hanson Nature Center: Capital Campaign
Alert
Hanson Nature Center Coming Soon – Grand Opening December 2023!
Connecting Generations Naturally: A Campaign to Build an Environmental Education Center in Winnebago County
Why an Environmental Education Center?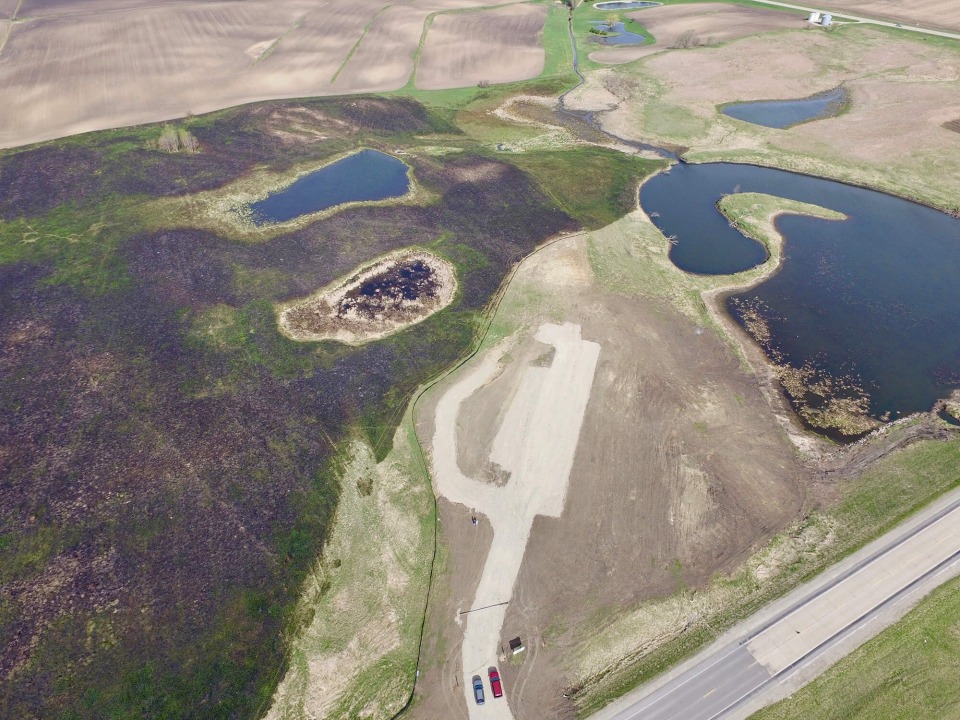 Currently, Winnebago County has no environmental education center. The WCCB offices are housed in a 65-year-old converted cabin which is not ADA-compliant and is at the end of a 5-mile gravel road. The current building is less than 2,000 square feet and can accommodate fewer than a dozen visitors at a time.
Almost 3/4 of Iowa's counties now have nature centers. These facilities get people outdoors and promote an increased quality of life. They offer environmental programming for school and civic groups, as well as the general public. They are tourist destinations that help visitors learn about the valuable natural resources of the area and also serve as meeting locations for local civic groups and other organizations. Our center would serve all of these purposes, as well as house the offices of the WCCB.
The center will contain exhibits and interactive displays to help increase people's awareness and knowledge of their natural resources, as well as how to conserve those resources.
It will be centrally-located in the county, just south of the north junction of Highways 9 and 69.
The building will be 40' x 96', or 7,680 square feet over two levels.
It will be a rustic design, with 28'-high vaulted ceilings.
The building will meet ADA specifications for accessibility.
It will include a variety of green design elements, including possibly a solar energy system.
Rooms will include offices, a large program/meeting room (that will seat 85-100 people), an exhibit area, a workshop/activity area, a staff meeting room, and a kitchenette.
The center will be located at 41600 170th Ave. Hwy 69, Leland, IA 50453.
Fundraising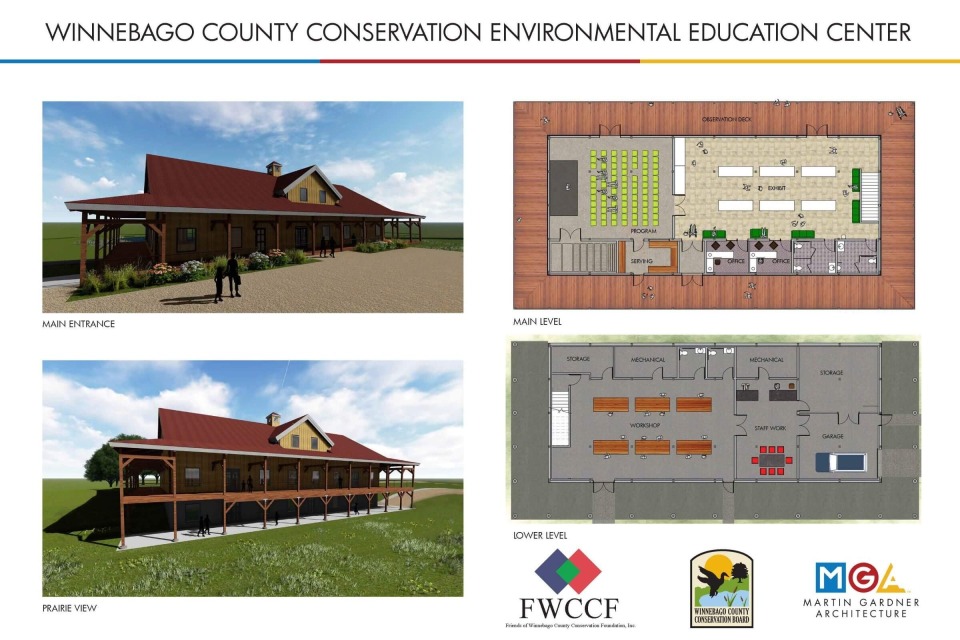 The WCCB signed a $2.297 million contract with Kingland Construction Services in 2022! We have already raised 82% of that amount, mostly through small and large donations and numerous grants, and the Winnebago County Board of Supervisors have also contributed generously. But, fundraising continues! We still need to raise the remaining 18% to complete the project, as well as raise additional money to purchase furnishings and create exhibits.
The following donor recognition levels have been established...
Chickadee Level: < $250
Bluebird Level: $250-$499
Goldfinch Level: $500-$999
Cardinal Level: $1,000-$2,499
Sandhill Crane Level: $2,500-$4,999
Trumpeter Swan Level: $5,000-$9,999
Bald Eagle Level: $10,000 and higher.
All donations under $250 will be recognized in "The Prairie Country Quarterly," our quarterly newsletter. Donations above that amount will also be recognized at the center itself. A variety of naming opportunities will also be available for larger donations.
We have completed preliminary dirt work, installed the septic system, and begun construction. If all goes as expected, we hope to be holding our Grand Opening by the end of this year! We'll keep you posted!
If you would like to help us with this exciting project, you can fill out and send us this Pledge Form and your donations to:
The Friends of Winnebago County Conservation Foundation, Inc.
34496 110th Avenue
Forest City, IA 50436
You can also donate via credit card, debit card, or Pay Pal. If you donate online, you can email the Pledge Form to [email protected].
Our Friends of Winnebago County Conservation Foundation is a 501(c)3 non-profit organization, so your contributions are tax-deductible. If you have questions about this project, or if you would like to make an especially large donation, please feel free to call and talk to us at 641-565-3390.
Thank you!
Construction Progress